Inspired by subcultures, music, art and lifestyles, local brand Amen is making waves in the industry
By Cheryl Chia
If style independence is something you are looking for, look no further than local brand Amen. Influenced by subcultures, music, art and lifestyles, their pieces are one of a kind and set you apart from the rabble.
Created by Nicole Wong and Clinton Leicester – both graduated from LaSalle College of the Arts – almost three years ago, the brand name came about when Clinton was looking at the screen during Christmas mass and decided that the word Amen would be interesting as a brand name.
Nicole says, "We started Amen because we couldn't really find anything we liked out there. Most of the fashion labels were very trend-driven. We wanted to create a label with all our influences combined to form a very distinct style which we like."
It shows in the brand's Spring/Summer 2013 collection featuring tailored jackets with paisley and polka-dotted inner linings, high-waisted pants and jumpsuits, and hardware-inspired accessories.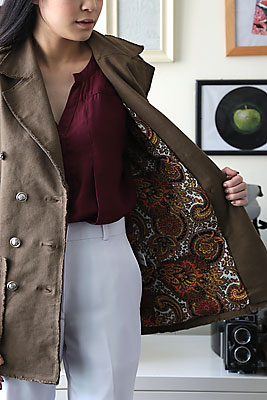 Nicole also adds that they do not "really choose a certain subculture".
"We like to design by having a certain theme, then we can infuse our influences into it. So, you have a line with many subcultures coming together with our theme to form the collection, which we feel will keep things fresh," she says.
The pair is also working on an offshoot label called Amen Disciple which will comprise basic wear made of jersey fabric. Amen is currently stocked in Singapore, Indonesia and Canada.
"The response overseas has been huge! We are honoured that people around the world like our brand and our style," they say.
The prices range from $80 to $300 at Amen. The pair realised that they catered to a huge range of clients.
"I believe as long as you like our style and direction, it doesn't matter your age, job, etc.," says Nicole.
"Don't believe the myth that local labels are always in poor quality. Proper local labels have some of the best design; quality that can compete with many of the bigger brands out there.
We just need to get your support to form a strong community," she says.
Visit www.amenlabel.com for more.