TOMORROW X TOGETHER WORLD (TXT) will embark on their second world tour, "TOMORROW X TOGETHER WORLD TOUR <ACT : SWEET MIRAGE>", this March in Singapore. It will take place on 1 April 2023!
TOMORROW X TOGETHER (TXT) debuted in 2019 with five members: SOOBIN, YEONJUN, BEOMGYU, TAEHYUN, and HUENINGKAI. The group is known for their youthful narrative and storytelling, as well as its unique sound that spans different genres.
You may have heard some of their top songs such as  "0X1=LOVESONG (I Know I Love You) feat. Seori" (2021), "Blue Hour" (2020), "LO$ER=LO♡ER" (2021), "Anti-Romantic" (2021), and "9 and Three Quarters (Run Away)" (2019), on Spotify as they are ranked Spotify's 6th most-streamed K-pop artist globally, proving their immense worldwide popularity.
Their 4th EP "minisode 2: Thursday's Child", released in May 2022, received a five-star review from NME, and charted for 14 weeks on the Billboard 200 chart. The EP was also recognized as the third best-selling CD album of 2022 in the U.S. after Taylor Swift and BTS.
Fans of the group, also known as MOA (short for "Moments Of Alwaysness"), have been looking forward to TOMORROW X TOGETHER's newest EP "The Name Chapter: TEMPTATION", which was released just a few weeks ago.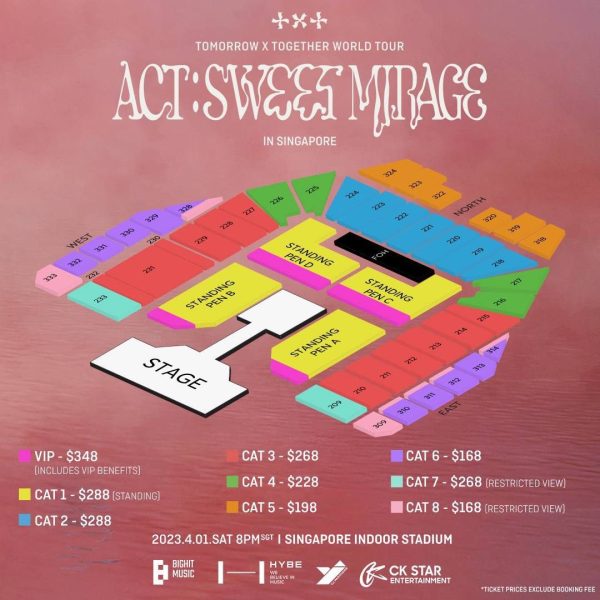 The one-night-only concert in Singapore will take place on 1 April 2023 (Saturday), 8PM (SGT) at the Singapore Indoor Stadium. Tickets will go on sale from 10 February 2023 at 12PM (SGT) for members of the Official MOA Fanclub on Weverse. General ticket sales will follow on 11 February 2023 (Saturday) at 12PM (SGT) via ticketmaster.sg.