An elite FBI squad is pit against a super team of world-class magicians who are pulling off heists against corrupt business leaders
Now You See Me is a classic police and thief movie but with sleights of hand and many twists.
The Four Horsemen is a group of talented professional magicians headed by the charismatic, arrogant, dapper and self-assured Atlas (played by Jesse Eisenberg of The Social Network) that enthrals audiences with its high-tech, high-profile magic shows.
They start by remotely robbing a Paris Bank while in Las Vegas, then exposing a white-collar crook and moving his money into their audience's bank accounts.
Cat-and-Mouse Game
These daring heists befuddle the authorities, with FBI Special Agent Dylan Hobbs (played by Mark Ruffalo) bent on apprehending them before they pull off an even more audacious crime. However, he has no choice but to work with Alma (Melanie Laurent of Inglourious Basterds), an Interpol detective he is suspicious of.
He eventually turns to Thaddeus (played by Morgan Freeman of Oblivion and Olympus Has Fallen), a well-known magic debunker who says that the Paris bank trick was actually a well-planned illusion. Dylan and Alma start to wonder: Do the Horsemen have an outside point person?
They race to get ahead of the Horsemen as the world awaits their final spectacular trick.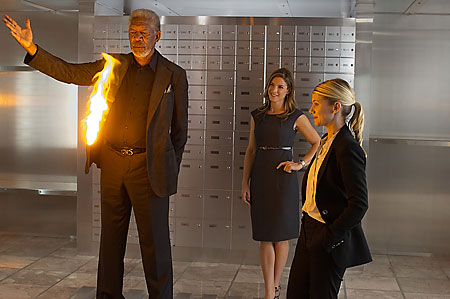 MECHANICS BEHIND THE MAGIC
The alluring realm of magic and the glittery backdrop of the movie make for a visual spectacle with impossible illusions and exciting action that will leave the audience clinging to their seats. Also a tribute to magic, it reveals ancient secrets, updates classic illusions and invents new ones.
Several top-notch magicians provided counsel so that they could delve deeper into the mechanics of onstage sorcery, to provide an authentic framework.
They eschewed CGI and special effects whenever possible, and the actors learnt and performed many of the tricks themselves.
David Kwong, the director of movie consulting company Misdirectors' Guild which has advised the producers of several movies on magic said, "We don't expose too many secrets, but you will learn to respect what The Four Horsemen are capable of."
Now You See Me [TBA]
Director: Louis Leterrier
Starring: Jesse Eisenberg, Mark Ruffalo, Mélanie Laurent, Woody Harrelson, Isla Fisher and Morgan Freeman
Genre: Thriller, Action
Run Time: 116 min
Release: 6 Jun