This entertaining animation is a must-watch for its unique art style and vibrant settings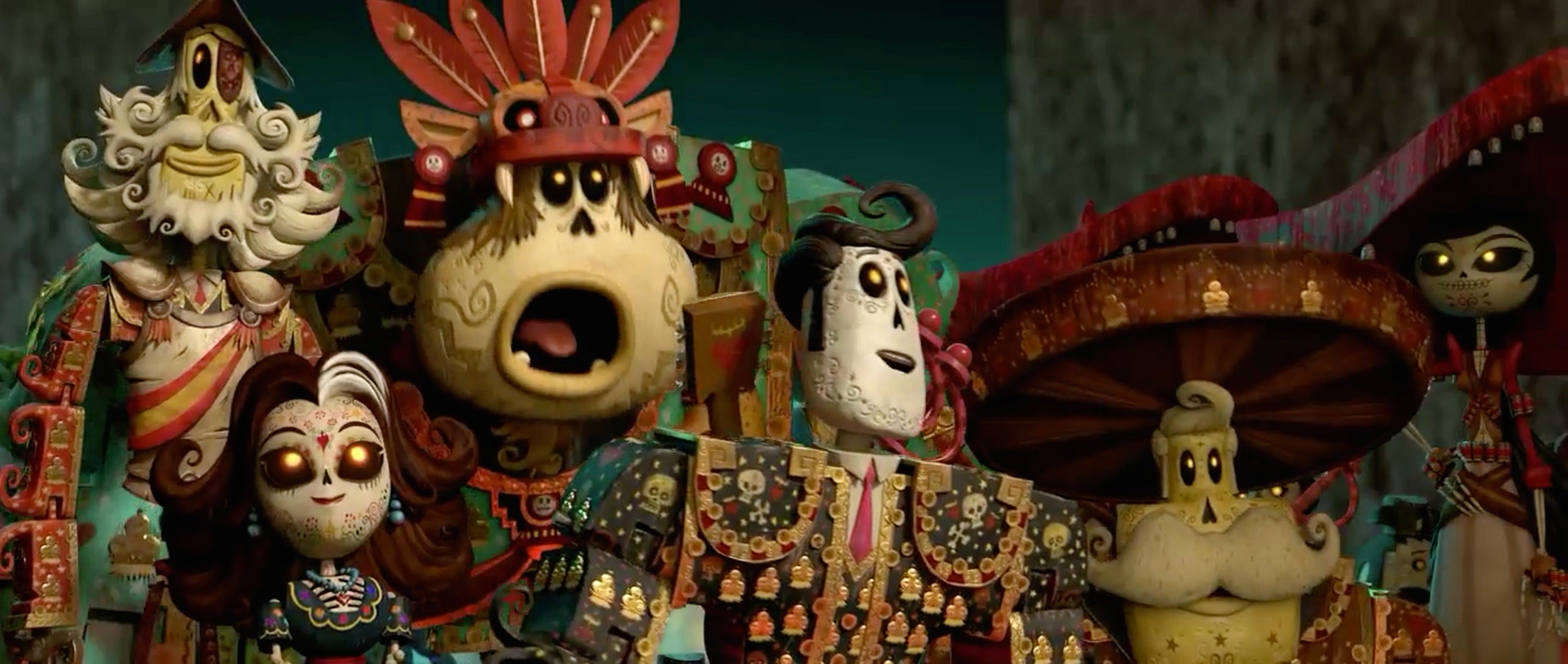 It's hard for a cartoon film to stand out these days. With so many animated films released every year, they all start to blend into one giant colourful reel.
But The Book of Life sets itself apart exactly because of its special cartoonish quality. The character design is insanely exaggerated: giant sombreros that flail about; large, funky hairdos; and flamboyant costumes that make you want to dress up even after Halloween's over.
Journey to the ends of the Earth
The Book of Life follows the fictional Mexican lore of a love triangle between three friends. Joaquin (Channing Tatum) is the vengeful son of a murdered soldier, and Manolo (Diego Luna) is a born-and-bred bullfighter with a secret passion for music.
They both fall in love with their friend Maria (Zoë Saldana) and, through a twisted Romeo and Juliet-esque tale, they must tame their pride
and prove their worth to their village.
Two Mexican gods, La Muerte (Kate del Castillo) and Xibalba (Ron Perlman, of Hellboy), pick up on this affair and wager on who will win Maria's love. Because the gods are immortal and highly carefree, they lay their leadership of Earth on the line for the bet.
But it looks like the gods aren't all that honest after all – we expected more from you guys! – so it's up to Joaquin and Manolo to set things right.
Clown cast
Although the comedy in the movie may be a little bland, the movie's carnival of crazy colours will easily arrest your attention.
More so when you find out who voices these characters – then it's a fun ride of imagining your favourite actors as hilarious caricatures!
Who would have expected actor, sexy model and frat boy hunk Channing Tatum to play a comical Mexican town hero? Or hardcore rapper Ice Cube voicing a big ol' fluffy demigod? Just imagining them prancing around on the vivid fantastical sets has me chuckling.
And if you've watched the 2004 movie The Terminal, you'll be rooting for the romance between Diego Luna and Zoë Saldana's characters – after all, they portrayed similar affection in the earlier movie as well.
Channing Tatum wants a 'stache
When asked about the role of Joaquin, Tatum admitted that he was envious of the character. He said, "I think he looks amazing; I wish I had Joaquin's jaw and moustache. Joaquin is very proud of his 'stache – wouldn't you be?"
Interestingly, Manolo is the only character in the whole film of masculine moustaches who doesn't sport any facial hair. But we don't think Luna has any problems of jealousy with his character.
He astounded the movie crew when he recorded Manolo's serenade, thrilling them with his resounding voice. He was "very, very happy" after the recording, and called director Jorge R Gutierrez to gush, "Jorge, I can sing!"
Actually, I retract my earlier statement. You should definitely catch this for the awesome remakes of popular songs as well. I'd give anything to see a cartoon music video of "Creep" – wouldn't you?
The Book of Life [PG]
Director: Jorge R. Gutierrez
Starring: Channing Tatum, Diego Luna, Zoë Saldana, & Christina Applegate
Genre: Fantasy
Run Length: 96 min
Release: 30 Oct