Warner Bros. is extending an invitation to all to join them on Sentosa for a once-in-a-lifetime 100th-anniversary celebration in the heart of Singapore.
Just in time for the year-end school holidays in Singapore, enthusiasts of all ages have the opportunity to fully engage in the Warner Bros. universe from 10 to 26 November 2023. This event highlights the studio's modest origins in 1923, ultimately evolving into the creator of some of the most iconic global characters and narratives, showcased on screens of all dimensions.
Observe the enchanting transformation of Sentosa into a realm of magic and nostalgia, commemorating the studio's journey from its beginnings in 1923 to its contemporary status as the birthplace of legendary characters. Immerse yourself in the captivating chronicle of Warner Bros.' history, which unfolds across the island, with each site revealing a unique aspect of the studio's evolution.
The event offers an exciting range of activities that present both iconic and upcoming TV shows and films from Warner Bros. It encompasses a timeline of the storied studio at three significant event locations on Sentosa: Beach Station, Emerald Pavilion, and Southside. This setup allows visitors to explore various epochs, genres, and milestones in the world of entertainment.
What to expect: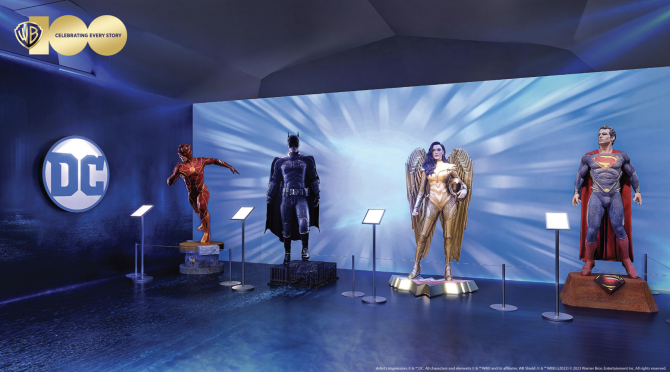 WB100 Central (Located at Beach Station)
At WB100 Central, fans can learn more about Warner Bros. Studio over the past century, and have the opportunity to make new memories – by taking photos alongside some of the most iconic characters in entertainment history. Pick up a passport, collect stamps at all the activity locations and stand a chance to win grand prizes including a staycation at Sentosa.
WB100 Interactive Zone (Located at Emerald Pavilion)
WB100 Interactive Zone displays limited edition products, including an exclusive Gold Mint Bar Collection from Lotus Archi. The set features loved franchises like Scooby-Doo, and Harry Potter and the Wizarding World. Fans can also venture into the different worlds of animation and DC, with two walk-through zones.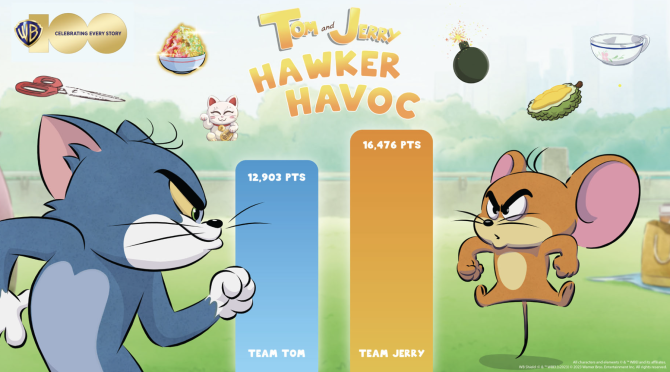 WB Animation Zone (Located at Emerald Pavilion)
The WB Animation Zone brings to life some of the world's most loved cartoons. There is a Tom and Jerry section dedicated to the iconic cat and mouse duo's latest escapade, learn how the show came to life through exclusive storyboards and character development pieces and test your agility skills with the Tom and Jerry Hawker Havoc game.
World of DC (Located at Emerald Pavilion)
This is the place to delve into the rich history behind some of the world's most beloved superheroes. The World of DC exhibition unveils the origin stories, powers, symbols, and more.
Fans will be thrilled by the iconic comic book covers, carefully curated publications, an interactive projection wall, and premium figurines. Additionally, they'll have the exciting opportunity to strike a pose alongside legendary figures like Batman, Superman, The Flash, and Wonder Woman.
The zone culminates with a special Aquaman and the Lost Kingdom photo opportunity in celebration of the upcoming movie, set to premiere in cinemas in December.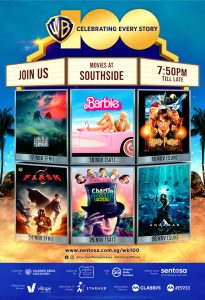 WB100 Movie Screenings at Southside
Once you've immersed yourself in Sentosa's delights, unwind and enjoy a movie on the lush lawn at Southside. As part of the "Sentosa Movies at the Beach" series, Warner Bros. presents a lineup of blockbuster films every weekend evening starting from Friday, November 17. The featured films are as follows:
– 17 November 2023: Godzilla Vs. Kong (2021)
– 18 November 2023: Barbie (2023)
– 19 November 2023: Harry Potter and the Sorcerer's Stone (2001)
– 24 November 2023: The Flash (2023)
– 25 November 2023: Charlie and the Chocolate Factory (2005)
– 26 November 2023: Aquaman (2018)
Admission is free. For more information, please click here.