From fashion to gadgets to food, there is a surprise for every mom!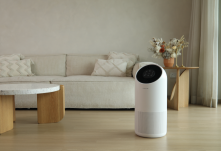 15. The 

Steriluxe

 Aire Smart Room Purifier

 
This Mother's Day, give your mum the gift of a breath of fresh air with the Steriluxe Aire.
Using advanced medical-grade filtration technology to eliminate 99.97% of harmful particles, the Steriluxe Aire delivers healthy air. Whether it be Mum's room or the family's living space, the Steriluxe Aire is powerful enough to purify the entire space – all the while operating at a whisper-soft noise level.
For more information on the Steriluxe Aire, please click here.