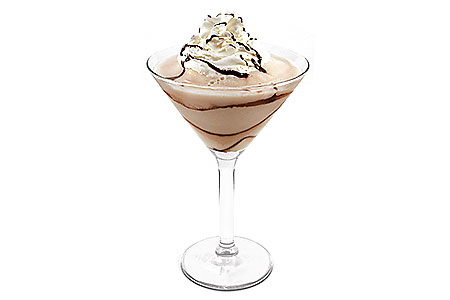 Having featured various types of vodka, this recipe is timely
Add a cheeky spin to the good ol' Banana Split with this Pinnacle Banana Split Cocktail.
Pinnacle Vodka is small-batch crafted and made with pure spring water and the finest wheat grain from Brie, France. The Pinnacle Whipped Vodka is whipped cream flavoured vodka, and is especially great for cocktails.
This Pinnacle Banana Split Cocktail is great as a dessert drink to end a meal, or as an appetiser to an evening of drinks.
Few ingredients are required and it is pretty simple to make, so why not try it out?
Ingredients
• Chocolate syrup
• 1 part Pinnacle Whipped Vodka
• A splash of Bols Crème de Banana Liqueur
• A splash of Half & Half
• 1 preserved cherry
Method
• Swirl a chilled Martini glass with chocolate syrup.
• Shake all the ingredients together with ice.
• Strain the mix into your prepared Martini glass.
• Garnish with a cherry, and you're done.
Whether for a date night in or a gathering of friends, your Pinnacle Banana Split Cocktail is now ready to add some pizzazz to your evening.
Pinnacle Whipped Vodka is available at The Beam Cellar, 229 Mountbatten Road, #01-03/07, Mountbatten Square, Singapore 398007.