Add more flavours to your Chinese New Year gatherings with these delivery and takeaway items.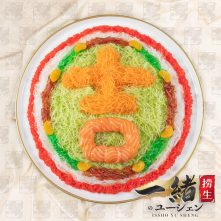 1. ISSHO IZAKAYA's Auspicious Yu Sheng
Toss to an auspicious new year with Issho Izakaya's Auspicious Yu Sheng which is intricately decorated with the mandarin auspicious word – 吉, perfect for large glorious gatherings!
It is filled with an abundance of air-flown Norwegian salmon slices, accompanied by Issho Chef's bespoke homemade Japanese plum sauce that is meticulously curated with hand-milled fresh plums for an excitingly sweet and zesty flavour. It is available from 6 January to 5 February 2023 for takeaway only.
To order, call the respective Issho Izakaya outlets and pay via PayNow. Pre-order one day in advance is required.