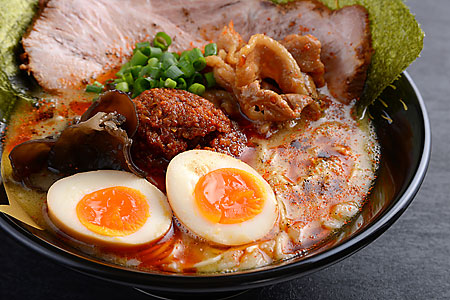 Tonkotsu King's ramen chain has opened new outlet Tonkotsu King Four Seasons in Bugis Village
By Cheryl Chia
If you've seen the snaking queues at Tonkotsu King at Orchid Hotel in Tanjong Pagar, you would know the verdict on this ramen chain is definitely a positive one.
Chef Keisuke Takeda, one of Japan's most decorated celebrity ramen chefs, also known as the "Ramen Revolutionist", is known for his exceptional culinary flair to infuse highly innovative concepts into the well-known basic Japanese staple that has earned himself both accolades and a strong fan following in both Japan and Singapore.
As seen from his fourth outlet, the Tonkotsu King Four Seasons serves up ramen according to the four seasons. Incorporating his French culinary training into the menu, his Spring ramen ($15.90 with all the toppings such as seaweed and flavoured egg) is served in cherry blossom bowls and intricately sprinkled with basil and parmesan cheese to evoke the colours of spring.
His Summer ramen ($17.90 with all the toppings) adds a touch of spice, from Szechuan chilli to Japanese chilli powder, into the mix for a kick to the palate.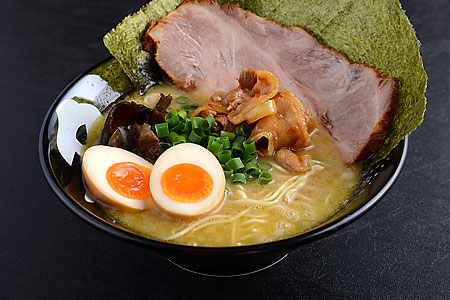 We like the Winter ramen ($14.90 with all the toppings), one the best, which is closer to the standard basic ramen bowl. Simplicity is a virtue. The Autumn ramen ($16.90), made with three assorted mushrooms, is also full of flavour.
Chef Keisuke's signature creamy and thick pork-based broth made from pork bones, collagen and chicken bones is boiled over high heat for 12 hours, resulting in the thick broth worthy of a snaking queue.
Our favourite ramen however, is definitely the King Ramen ($17.90 with all the toppings); the ramen is topped with thin slices of pork belly that has been stir-fried with ginger and teriyaki sauce. The flavourful pork just had us hankering for more. This is a must-try in the Tonkotsu King Four Seasons.
Chef Keisuke is based in Japan, but he visits Singapore once a month to ensure that his standard of ramen has been kept up.
The restaurant also has a free flow of hard-boiled eggs (eat them with the Kewpie mayonnaise provided), bean sprouts and grind-it-yourself sesame seeds. Also try their Green Tea Cola ($3.80) to round off your meal.
Tonkotsu King Four Seasons is located 158 Rochor Road, Bugis Village, Singapore 188433. Tel: 6333 5740
Republished from Issue 33.