We've begun dreaming of a white Christmas, and these beautiful destinations are stoking our fire
When it comes to Christmas, our minds are over-active with imagining romantic towns and white snowy villages across the globe. Sadly, we don't get much action in the way of snowfall on our sunny island.
But, hey, one can dream! These places have got us sighing in wonder. Get me a one-way ticket to any of these places, and I'd be merrier than a child on Christmas morning!
Hallstatt Village, Austria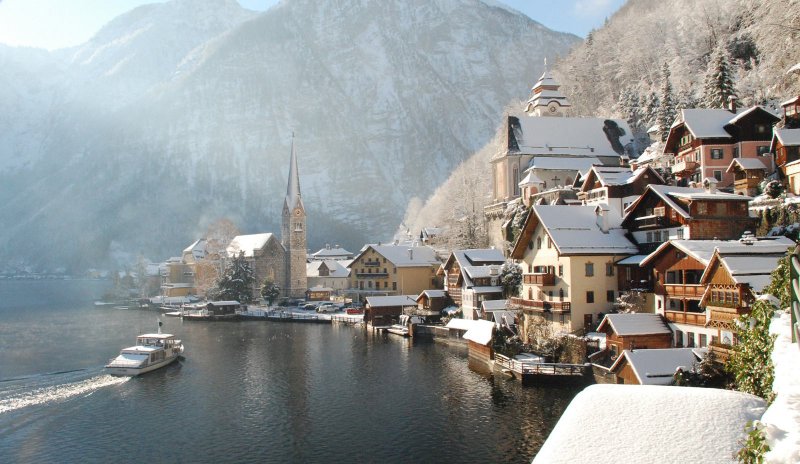 Looking like the town of Arendelle from the movie Frozen, Hallstatt Village rests peacefully at the base of snowy mountains on the shore of the Hallstätter Sea. It's the perfect winter haven many of us dream of visiting, especially during this season.
And Hallstatt knows this – which is why they are packed with numerous winter activities for those lucky enough to visit. Come Christmas, Hallstatt will be populated with traditional Christmas markets, snowshoeing itineraries, and parades that keep its residents joyous all through December.
From munching on cookies and smoked fish to taking a romantic torchlight walk through the town, wintertime in this village is truly a complete Christmas experience.
Frankfurt, Germany
Every year-end, Frankfurt plays host to one of the largest Christmas markets – or Weihnachtsmarkt – in Germany. It sees record-breaking visitor numbers, as revellers flock here from around the region and even the world.
What draws them in? Take your pick: The mesmerising carousel, elaborate booths and shops, and a giant Christmas pine tree, cuddled by the historical Paulsplatz and backed by the scenic Römerberg.
And visitors don't have to be afraid of getting overwhelmed. The Christmas market offers tours and weekend packages, so you can experience the village worrying about missing out on the best sweets and savouries.
Istanbul, Turkey
Although the Turkish don't typically celebrate Christmas, they still dress their city up to the nines for the season. These decorations are actually to usher in the New Year, but many Christmas-themed ornaments can be found.
From mid-December, the streets are lined with stores and statues donning festive furnishings like lights, deer, and even Santa Claus. And there is no inundation of carols and commercial ads to bother you here.
The best part is, because the celebration isn't technically for Christmas, everything remains open! So you can still visit museums, stores and tourist sites during this period. You can still celebrate if you'd like – there are a number of churches in Istanbul that hold Christmas mass in English, Italian, and Turkish.
Prague, Czech Republic

If you're captivated by Orchard Road's light-up, you will be astounded by Prague's Christmas decorations. The Old Town Square at the heart of the city is transformed into a bustling market, much like Frankfurt's Weihnachtsmarkt.
Every day from end-November til mid-January, the stores are open in full sparkling grandeur. These brightly-decorated wooden huts sell almost everything – from handicrafts to traditional foods and drinks.
Warm up over a mug of Czech beer or mulled wine as you feast on spit-roasted hams, sausages, and sugar-coated pastries. The market even has an animal stable, where you can pet sheep, goats, and a donkey amid a giant Bethlehem scene. Now that's the true spirit of Christmas!
New York City, United States of America
For the city dweller, perhaps traipsing in an urban environment is your idea of an idyllic Christmas. Well, where better to do so than in the city of dreams?
From extravagant adornments and trimmings to the warmth of the metropolitan crowd, New York City has everything to make a perfect Christmas holiday. You can even find smatterings of ice skating rinks within this concrete jungle, and get cosy over a warm cup of pumpkin spice latte.
And, of course, who can forget the winter sales? Now that's an all-rounded Christmas getaway!
By Pamela Chow