How confident is the Grand Prix incumbent in clinching 41st win in Singapore, finally rivalling his hero Ayrton Senna? The champion lays out his game plan
Lewis Hamilton speaking to the media at a press conference on Thursday (Photo: Epson Singapore)
With three World Championship titles and 40 wins under his belt, Formula One (F1) champion Lewis Hamilton has fast become a household name.
But recently, the Mercedes AMG Petronas racer has been spotlighted for other reasons.
Swerving away from the no-nonsense demeanour of his fellow drivers, the British champ has been making pitstops at other points of interest. He was spotted earlier this year at several Paris and New York Fashion Week shows, having traded his driver's seat for front row runway views.
Following that, he took to the stage at a late-night club to belt out quite a fetching hip-hop number: his personal composition, "Look It At You, Look It At Me".
Speeding into town in hopes of continuing his Grand Prix (GP) winning streak, Lewis took some time to share with us his emotions before the big race and any covert plans he has for conquering the fashion and music circuits.
You'll finally catch up to your childhood idol, Ayrton Senna, if you take your 41st win. How are you feeling about this weekend?
It honestly doesn't make any difference. I'm fighting for the World Championship, so that's my focus. I'm not merely focusing on what Senna has achieved [versus] what I've achieved.
I'm here to win the race as best as I can. There's not more pressure this weekend, it's just lots of game.
What's the most challenging part about racing in Singapore?
Staying on European time is the trickiest part. This morning I went to sleep at 6am and I woke up at 2pm – and this is my whole week. Your body and mind want you to eat at abnormal times. I had 'lunch' at around 10pm last night, and after that I went for training.
Training in the heat is not easy, and preparing for the heat — because it's so hot here — is really killer.
It's a very, very challenging circuit. You finish a lap here and you're like, "That was only one lap?" It feels like doing two laps in one go.
And what's your favourite part about the Singapore GP?
It's one of the greatest circuits to race on. Street circuits are always pretty exciting for drivers. The night lights – you get to really see the city… It's a long, long way through, so we get to see the views with all the lights.
Also, you get to see flashing lights from the people in the pits and all the hotels, and they seem to be proud to come [to the race]. It's a beautiful city.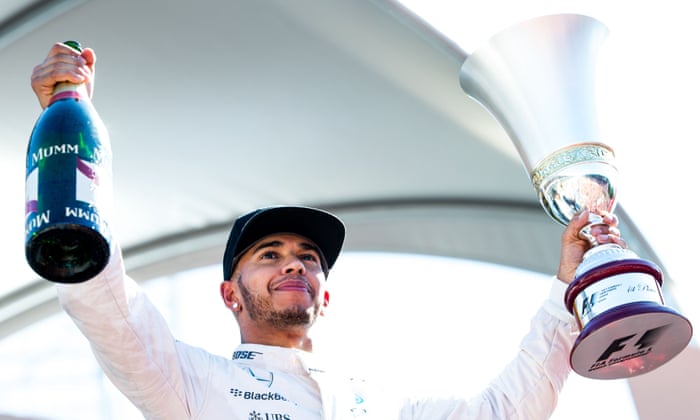 Lewis clinched a resounding victory at the F1 Italian Grand Prix earlier this month, placing him only one win shy of his idol Ayrton Senna's 41 wins (Photo: Peter J Fox / Getty Images)
After so many years, are you still excited to be out on the tracks?
I have been living my dream for 10 years. I was very fortunate – when I was eight years old I was go-karting, but I was doing cars when I was 17 or 18.
After the last race, I was floored by how many races I've done… This was my goal as a kid so it's amazing.
You recently said that the Italian GP this year was your best weekend in Formula One. How do you plan to top that?
You can't really top the weekend I already had, so I'm just trying to repeat it, trying to match it. I'm aware that it doesn't come around so often, so the target is just to try to get it back.
What are your favourite techniques in dealing with tricky circuits?
Use a little space, drive as close to the walls as possible, use all the curbs and be aggressive.
Lewis (right) is a self-proclaimed "old-school" driver
What new technology would you like to see invented for your race cars?
I don't know if I'm the best driver to ask that — I'm more old school, so I prefer less technology!… As a driver, I've always liked cars that have the gear stick and the clutch.
What are some of your race weekend essentials?
I've always got my headphones with me, with my music. I can lose my luggage, I can lose my clothes, as long as I've got my headphones with me.
And my notepad, because I need that for my race weekends.
If you could pick a dream holiday during the off season, where would you go and with who?
Usually when it's off season at the end of the year, I go skiing. Usually it's with my family, my brother and a bunch of friends. I also love surfing, so I love going to hot places like Hawaii when I get the chance.
But at the moment I have no plans. I generally take my life one day at a time. My assistants are always trying to book things way in advance, but I'm the worst — I do it three days before, maximum… I really don't know what I want to do until a couple of days before.
Can fans look out for any projects in fashion and music from you?
I wish! But there is nothing at the moment. I'm just enjoying it – I enjoyed Fashion Week. The coolest thing in Fashion Week – just before I flew here – was when Kanye [West] invited me to a show and I saw all these new designs… all in a creative space, doing something different.
How do you feel about being an idol to many youths in the world?
As a kid, you just want to race and not think about other things that come along… But now, I've realised that I have a great platform to inspire kids.
Different families come up to me now: black families, black kids, Asian kids, coming up to me saying they want to be me. I'm seeing different ethnicities and different cultures, and I'd like to think that I can be a part of bringing them together.
What would you like to tell aspiring racers and fans who look up to you?
Make sure you don't rush… As a driver, make sure you're fit and stay focused on that one goal.
More importantly, don't let anyone tell you you aren't good. When I was racing I had adults telling me I was not going to do it. Other drivers' parents would come up to me and say, "You just don't have it."
But I beat their kids all the time! I don't know what they were thinking. School teachers would do the same to me.
So don't let anything get in your way. Stay focused and have self-belief… You're always going to win, just do it the right way… Take notes about your car, understand your go-kart and the way you work with your group. Then look for the next step.
For me, [my first race] was really tough. I crashed on my first day and destroyed the car… Those were trying times. Whenever you stumble and fall, make sure you get up stronger.
By Pamela Chow
Lewis Hamilton will tear up the track on race night, Sunday, Sep 20, at the Singapore Grand Prix.