Whether you'd like to head to the races or chill out far from the crowds, look no further than our exciting guide
To eat
1. Watch the F1 while tucking into a gastronomic 8-course dinner
Be enticed by stunning views of our skyline as well as the F1 circuit when you dine at Stellar at 1-Altitude. A brand new 'Constellations' menu awaits you, giving you the choice of a six, seven or eight-course dinner. Created by Executive Chef and Krug Ambassade Christopher Millar, the new menu features seasonal ingredients and hallmark creations such as Diver Caught Scallop Carbonara and Wood Fired Cauliflower and A Fine Swine.
More information here.
2. Enjoy a sky-high brunch
If all the F1 partying hasn't left you completely inebriated, perhaps brunch would be a great option. Cé La Vi SkyBar is offering the ultimate pool party with the best view in town, complete with free flow champagne, cocktails and an amazing buffet of oysters, sushi, foie gras and caviar. And that's not all — enjoy high-octane entertainment courtesy of renowned DJ, Jose Padilla as you groove to his electrifying ambient rhythms.
More information here.
3. Enjoy a special fusion menu at Bacchanalia
Take a break from the excitement on the F1 tracks and head to Bacchanalia for two nights of exclusive Asian-inspired menus. Old friends and The Fat Duck alumni, chef Ivan Brehm and Stockholm chef, Kim Ohman, will be creating a delicious and innovative line-up of dishes. Using produce from restaurant's very own organic garden from Cameron Highlands, the chefs will prepare dishes such as green lipped mussels with a Thai dipping sauce and poached grouper with turmeric coconut curry.
More information here.
To see
1. Catch Skrillex and other famous acts live
If you couldn't score tickets to the races, party it up here instead! Ultra Worldwide, the world's premier electronic music festival, is bringing three of the world's most popular DJs to Singapore to perform at the inaugural Road To Ultra Singapore. Headlining acts are international superstars Skrillex, Alesso and DJ Nicky Romero.
More information here.
---
Also read: Five ways to rock your concert party look
---
2. Go party rockin' with LMFAO's Sky Blu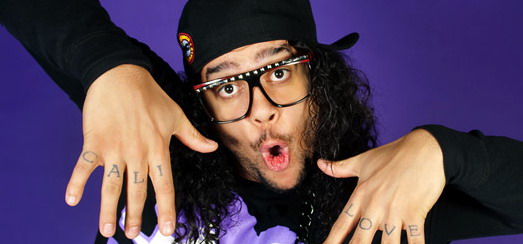 The skies are blue indeed when this half of LMFAO tears the house down at The Podium Lounge! Capping off the electrifying Grand Prix weekend on race night (Sep 20), Sky Blu will be performing for guests at the After-Party. If you're lucky, you might even spot some other famous guests from the race and its fringe concerts.
More information here.
---
Also read: Sky Blu sets the record straight about his identity and the split of wild duo LMFAO
---
3. Watch local talents take over town
The annual Noise Singapore Festival brings you the best art, design, photography and music from the creative youth of Singapore. Look forward to hundreds of creative artworks, simple crafts and merchandise by local artists as well as music performances that will take place over the next few weekends.
More information here.
To do
1. Make a splash at an F1-themed pool party
If you'd like to be far away from the Grand Prix crowds, hit the pool at Sentosa Cove's Splash & Dash event on Sep 19.
Held at W Singapore's Wet Deck, the party will feature Grammy Award-winning duo Dirty Vegas pumping out the beats to keep your engines running. The flashy Lamborghini Huracán LP 610-4 will also be making a pit stop there.
More information here.
---
Also read: Best alternative haunts to enjoy the F1 buzz
---
2. Celebrate the National Museum of Singapore's grand re-opening
You may have heard from the grapevine, and it's true — the National Museum of Singapore is finally re-opening its permanent galleries! Check out exhibitions like Desire and Danger, and Singapore's interesting past as the Crown Colony, Singapura.
More information here.
3. Have your kids compete in a junior race
The Singapore GP fun doesn't have to stop at adults! The little ones can get their need for speed fulfilled at eXplorerkid's Baby & Junior Race.
Open to toddlers as young as eight months, the race is a fun affair for the family that will let you walk away with more than $10,000 worth of vouchers and prizes.
More information here.
---
Also read: Top 8 F1 events to book now
---
By Pamela Chow and Samantha Francis