The most anticipated lipstick is here!
Of course, there are also many exciting new skincare products to look forward to.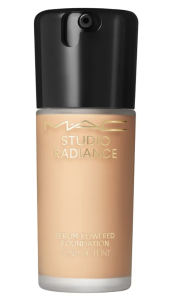 4. MAC COSMETICS Studio Radiance Serum-Powered Foundation, S$76.00
Introducing the serum-infused foundation that harmonizes the artistry of skin tones with the science of skincare. This innovative formula brings about a remarkable +209% boost in hydration, resulting in plumper, smoother, and more radiant skin. Moreover, this groundbreaking foundation continuously nurtures the skin, enhancing its hydration and overall health, all while providing enduring luminosity throughout the day.
The formulation relies on an 80% skincare base enriched with 33 skincare components, including a potent 10% hyaluronic acid solution, which locks in moisture beneath the skin's surface. Additionally, it features a blend of potent skin-nourishing superfoods, such as olive and jojoba oils, to nurture the skin, promoting a healthier-looking radiance. Furthermore, it contains vitamin E to safeguard the skin against environmental pollutants and blue light exposure.
Available in-store and online at Sephora.sg.