We are focusing on beauty devices and skincare this month!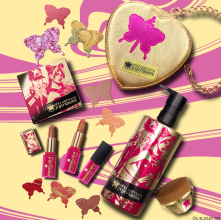 1. SHU UEMURA X JOJO'S BIZARRE ADVENTURE
Shu Uemura has teamed up with JoJo's Bizarre Adventure, featuring the central characters Jolyne Cujoh and her father, Jotaro Kujo, from the 6th edition of Stone Ocean. They have collaborated to create a special holiday collection designed to awaken your beauty in a unique and vibrant world.
Immerse yourself in the strange and colorful universe of JoJo's Bizarre Adventure with this exceptional and unconventional makeup collection by Shu Uemura. Explore the extraordinary marbled pigments and texture combinations, captivating color-shifting glitter, and highly reflective metal finishes. Embrace boldness, just like Jolyne, and tap into the potential of your beauty stand power.
The collection includes Rouge Unlimited Bizarre Marble Lipstick (S$53.00), Rouge Unlimited Kinu Cream Lipsticks(S$53.00), Rouge Unlimited Kinu matte Lipsticks(S$53.00), Ultime8 Sublime Cleansing Oil ($75.00/250ml & $178.00/450ml),  Petal 55 Foundation Brush ($89.00), Gold Eyelash Curler ($42.00) and Shu Makeup Mini Box (S$500.00)
An exclusive pre-sale, happening both in-store and online at Sephora.sg on 26 October 2023, followed by the island-wide launch at Shu Uemura in-store and on Lazada on 1 November 2023.