Hip-Hop and Jazz had a baby and called it The Great Gatsby Soundtrack
By Sonja Steinmetz
Soundtracks are often my favourite part of a movie. The best scene is made even better when just the right piece of music is played.
Julia Roberts getting dressed in Pretty Woman, the pottery scene from Ghost, and Joseph-Gordon Levitt's character bursting into full-on choreography in a park in 500 Days of Summer are all moments in film made iconic through the music that was used.
Luhrmann the Iconoclast
A master at choosing just the right songs for his films is Australian director Baz Luhrmann. He challenges our expectations and doesn't follow the rules. That's how you get Radiohead and The Cardigans in a Shakespeare movie [for Romeo + Juliet], and Pink, Li'l Kim, Maya and Christina Aguilera in 19th Century Paris [for Moulin Rouge].
With The Great Gatsby soundtrack, Luhrmann has assembled a motley group of talented musicians.
A Great Mix
A great advantage of soundtracks is that you get a variety of artistes on one album, from pop superstars to indie left-fielders and everything else in between.
With the film set in the roaring 1920s, a time of extravagant parties and lifestyles of excess, the track "100$ Bill" by executive-producer Jay-Z builds a lyrical bridge between New York in the 1920s and the present day by quoting Colin Powell, Malcolm X, the stock market crash of 1929, 9/11 and Taylor Swift, virtually in one breath.
Some of the Best
Representing the heart-wrenching turmoil and soul-crushing longing evoked by the film are tracks from Florence and the Machine ("Over The Love"), Jack White ("Love is Blindness"), The XX ("Together"), Sia ("Kill and Run") and the movie's epic love theme, "Young and Beautiful", by Lana Del Rey.
"A Little Party Never Killed Nobody" by Fergie, Q Tip and Goonrock and "Where the Wind Blows" by Coco O. of Quadron are also guaranteed to get you bopping along.
Start your day with Sonja Steinmetz on The Power Breakfast Show, together with Hubert Tang and Jamie Yeo, on weekday mornings, 6am-10am, on Power 98.
---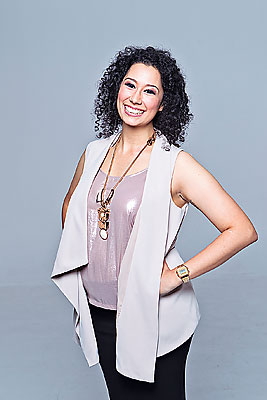 About Sonja Steinmetz
A huge fan of cats and Ryan Gosling, DJ Sonja Steinmetz of Power 98FM has mastered the art of functioning fully on just four hours of sleep, but doesn't recommend it.