Get your heart pumping at these places to celebrate the F1 weekend!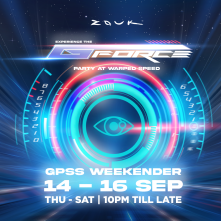 1. G Force Weekend at Zouk Singapore
Zouk Singapore is the ultimate destination for thrill-seekers and music enthusiasts alike from 14-16 September. Prepare yourself for an adrenaline-pumping experience filled with unexpected twists and turns that will keep you dancing long into the night, even after the checkered flags have been waved.
Look forward to heart-pumping events such as:
– Wukong: Singapore's Sensational DJ: Circle 14 September 2023 on your calendar because Zouk Singapore is proud to present the sensational Singaporean DJ, Wukong! Known for his dynamic performances and captivating mixes, Wukong guarantees an unforgettable night of music that transcends genres and unites the crowd in dance.
– Defected: The Pioneers of UK House Music: To close out the F1 weekend on 16 September 2023 at Zouk Singapore, don't miss Defected featuring headlining acts – Dunmore Brothers and Riva Starr. Defected returns to Zouk Singapore for the F1 weekend after a decade, promising to immerse you in infectious beats and captivating melodies that define the Defected sound. This night is set to be a captivating celebration that will leave a lasting mark in your memory.
– Boyzlife: The Ultimate Supergroup: On 15 September 2023, Zouk Singapore welcomes the extraordinary Boyzlife to the stage. Featuring members from the iconic boy bands Boyzone and Westlife, Keith Duffy and Brian McFadden will treat you to an unmatched fusion of classic hits and contemporary energy. Get ready to sing along, dance, and revel in the feel-good tunes they bring.
– Yeti Out Brothers: Grooving in Phuture: Also on 15 September 2023, the dynamic Yeti Out Brothers, Arthur and Thomas Bray, will take over Phuture at Zouk Singapore. With their distinctive style and infectious beats, Yeti Out Brothers promise a night of non-stop dancing and electrifying energy that you won't want to miss.
Zouk Singapore is located at 3C River Valley Road 01-05 to #02-06, Singapore 179022.